"Sujalam Suphalam" model is implemented in all the participating districts across India. This is complementing the efforts of the State Government towards improving water security. "Sujalam Suphalam" focuses on the improvement of village water resources by undertaking rejuvenation of water bodies and watershed treatments for the augmentation of groundwater. The program also focuses on building community capacity for undertaking various social disciplines for improved water management. Read More…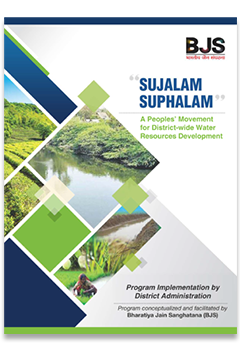 To facilitate collaborative action amongst stakeholders such as District Administration,Gram Panchayats, CSR and civil society organizations for water conservation initiatives,aligned with the guidelines set by Central & State Governments.
To increase surface and ground water availability through watershed treatments in the Program villages for agricultural and domestic use.
To increase awareness and enhance capacity of Gram Panchayat (GP) and farmers for effective management of community water resources.
It is a highly Replicable and Scalable model.
A significant contribution by Farmers to the project; As Farmers carry silt from the water bodies to their farmland at their own cost.
The program is designed with District as an administrative unit under the ownership of the District Administration.
High impact visibility of the work undertaken within a short span of time.
A Unique method of collaboration amongst several stakeholders like State Government, District Administration, Gram Panchayat, CSR and Civil Society Organizations.
This program ensures active involvement and ownership of the community leading to greater sustainability.
This is an extremely transparent model, as there is no money transaction taking place between the Government, BJS and the Farmers.